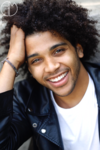 Hip-Hop with Michael Munday
Saturday: JUNE 16
4:00-6:00PM
$20
This high-energy Hip-Hop class infuses the latest styles of street dancing, while focusing on musicality and rhythm. Michael encourage's students to step outside of the box by bringing their own individual style and personality to the movements.
Club styles with Kumari Suraj
MONDAY: JUNE 18
9:00-10:30PM
$20
Kumari Suraj's unique choreography tells the story of her experience as a multiracial human being influenced by dance cultures of the 1970s-1990s. Her body of work is the melting pot of her creativity. Be it traditional Whacking & Punking meet street jazz. Or her world renowned Frankie Douglas style mixing Dancehall, 90s Hiphop, House and African styles with Whacking. As one of the first vlogers to upload Waacking/Whacking choreography videos to youtube in 2006/2007, Kumari has spent the last 9 years crafting her signature style of movement.
THEATRE JAZZ DANCE WITH MARIA TUCKER
MONDAY'S: JUNE 18-AUGUST 6
6:00-7:30PM
$100 (8-weeks)
Blending styles such as Theatre, Commercial, Lyrical, and Contemporary Jazz, this class begins with a warm-up incorporating isolations, strategic strengthening, stretching and center and across-the-floor exercises, focusing on technical refinement, story-telling, musicality, creativity and performance.